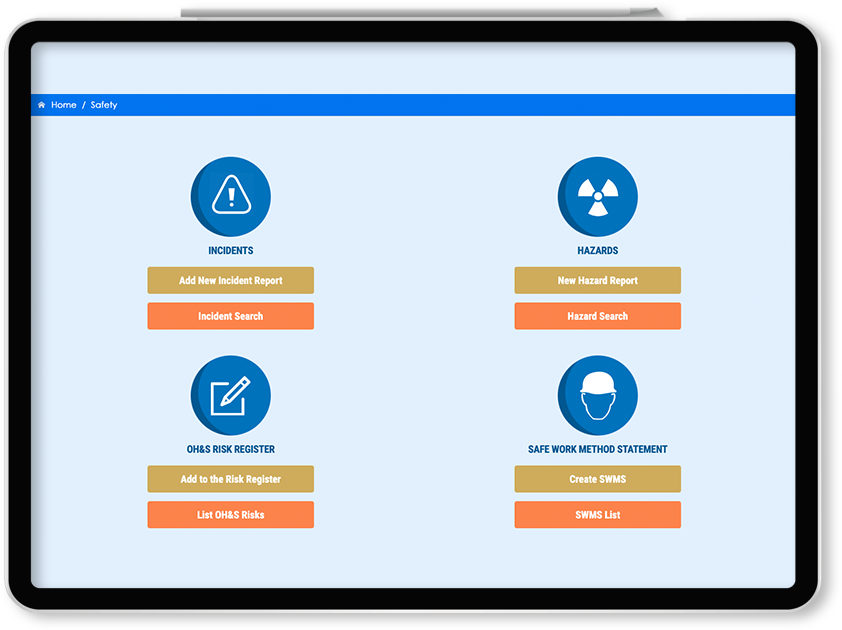 24/7 Safety Hotline
No emergency too complex or challenging
We all know that when it comes to building and construction, the industry never sleeps. Likewise, we know that at any time, an unforeseen issue can arise and disrupt the progress of a job or project. Our 24/7 safety hotline ensures that you no longer have to suffer days-long delays while waiting for the slow hand of bureaucracy to get to your problem. On any day, at any time, we are ready and waiting to address your compliance-related needs on the spot, so that you can continue doing what you do best without skipping a beat.
What we offer in this service
Call Edara's safety hotline at any time for any reason, including but not limited to:

Safety paperwork and tendering

High Risk Construction SWMS

Safety Management Plan

Plant Risk Assessment

Tender Submissions
Get into this service
Safety paperwork and tendering
The process of fulfilling the requirements outlined for tender health and safety can be so overwhelming that it can drag on for what seems like forever. Too often, it is assumed that organisations understand these requirements and that they have the resources to properly fulfil them. Which is where we come in. Our experts understand these requirements back to front and work with you to ensure that no stone is left unturned and no consideration has been left aside.
High Risk Construction SWMS
 Submitting a safe work method statement for high risk construction work is another complicated process that the Edara Systems team has a wealth of experience in satisfying. Organisations turn to us in this situation due to the convoluted information sheets that are supposed to guide the process, but in reality, require you to refer to many regulations, templates and appendices filled with complex jargon and terminology. We know exactly when such SWMSs are required and more importantly, what information should be included in order to successfully submit one.
Safety Management Plan
Currently, the WHS management plan form is a 50-page document littered with dense definitions and headache-inducing legalese. Looking through it, let alone completing it, can force you to spend hours on a single page, reading and re-reading in the hope that something clicks. Luckily, we are experts in cutting through the confusion and know exactly how to answer every question and fill out every field – so that you can safely and successfully submit a perfect, coherent and compliant safety management plan.
Plant Risk Assessment
 Plant risk assessment forms are used when determining whether an item of plant contains a potential hazard and are designed to help you establish safety control measures. These measures are necessary in order to prevent harm to life, health, property and the environment, so completing them as comprehensively as possible is best practice for all involved. Not only do our experts do exactly that, but we do so in far less time than usual – meaning days, instead of weeks.
Tender Submissions
Too often, organisations submit tender prices that do not factor in resources required to meet safety standards. Failing to allow for unexpected costs can throw the situation into disarray. Not to mention the fact that these kinds of submissions are riddled with jargon and terminology that even a dictionary can't help you decode. Which is why our tender submission service is in such high demand. We understand the ins and outs, definitions and demands necessary to meet all requirements – and do so successfully.
The latest information and thinking from the Edara Systems team