ISO 14001 definition; What is Environmental Management System?
ISO 14001 roles and responsibilities Environmental management systems — Requirements with ISO 14001 2015 guidance for use is a standard published by the International Organisation for Standardisation (ISO), an international body that establishes and disseminates standards that are recognised internationally. It has set itself as 'The' international management system standard for the design and implementation of an environmental management system. Edara systems can help you to take the EMS for your organisation easily.
what is ISO 14001 definition? Main aim of EMS
It aims to specify the requirements for the planning, establishment, implementation, operation, monitoring, reviewal, maintenance, and continual improvement of a documented environmental management system to protect against, reducing the probability of occurrence, preparing for, and recovering from environmental incidents when they do occur.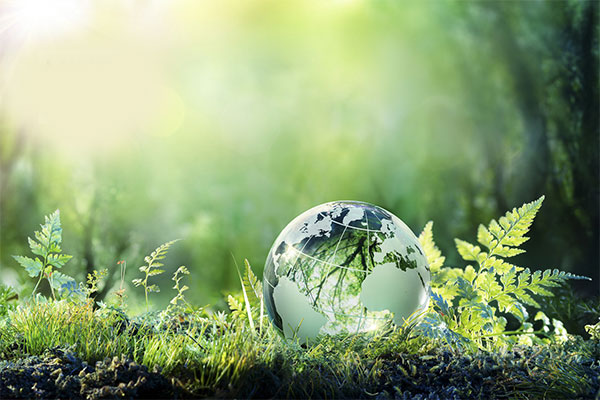 The standard applies to organisations of all shapes and sizes, regardless of their type, the nature of their operation, or the sector/industry they operate in.
What is the latest ISO 14001:2015 standard? ISO 14001 guidance
The most up-to-date edition of the environmental management system standard was published in 2015 and is referred to as ISO 14001 environmental management system with guidance for use (ISO 14001:2015). As with any ISO standard, the recent ISO 14001 update was approved by a majority of member countries before its release and has therefore become a globally recognised standard accepted and used by a majority of countries around the globe. You should increase your information about ISO 14001 roles and responsibilities to attain a successful organisation.
ISO 14001 guidance and  standard, match your construction company with nature!
You are maybe curious what is ISO 14001 definition; An environmental management system, commonly referred to as EMS (ISO 14001:2015), consists of a set of policies, processes, practices, plans, and records that dictate the guidelines regulating how your organisation interacts with the environment. Because each organisation has unique business processes, different legal requirements, and its relationship with the environment it operates in, the EMS needs to be adapted to it accordingly. If you want to know more about ISO 14001 benefits please click on the related link and the whole article.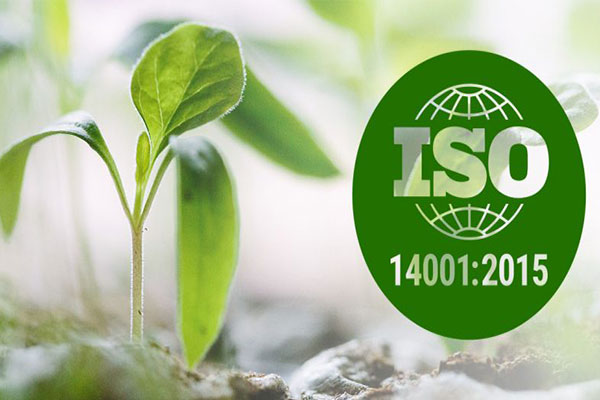 Fortunately, ISO 14001:2015 provides a framework and recommendations for the creation of your EMS in such a way that if followed properly, makes it near impossible to miss important elements required for it to be effective and successful.
Top 10 elements in an EMS for a construction company; ISO 14001 roles and responsibilities
ISO 14001 definition composes of ten distinct sections; That is because ISO 14001 cost is worth it. As with most other standards, the first three sections are introductory, while the last seven contain the actual requirements for the EMS. Outlined below, are the seven main sections with a description of what each one of them consists of:
Section 4: Context of the organisation – the fourth section consists of the requirements needed to understand your organisation to lay out a solid foundation for a sound implementation of your EMS. It contains the requirements for the identification of issues, internal and external, along with the requirements for the identification of all stakeholders and their expectations, the ISO 14001 definition and the identification of all subsequent processes needed for the EMS.
Section 5: Leadership – This clause guides the requirement for the organisation to demonstrate leadership and commitment about the development, implementation, and improvement phases of the EMS. Top management also needs to demonstrate their dedication to the EMS, actively and on an ongoing basis, by embodying the environmental policy, ensuring it is clearly defined, promoting employees' formal and informal involvement in its application and improvement, ISO 14001 roles and responsibilities are properly assigned throughout the organisation.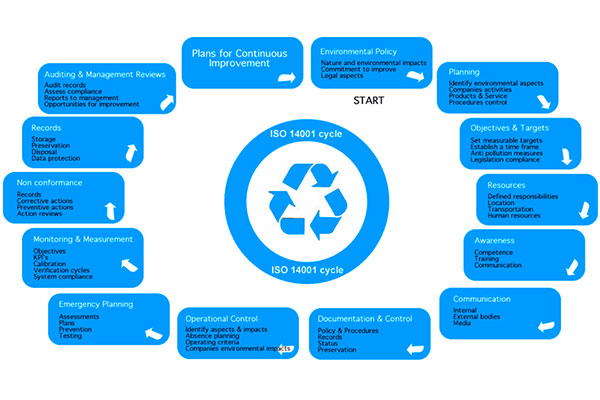 Section 6: Planning – Senior management should also plan for the continuous functioning of the EMS what is ISO 14001 definition. They must assess all potential risks and opportunities relating to the EMS, and identify and plan for the realisation of their environmental improvement objectives. Furthermore, the organization is required to assess every one of its processes and their respective ramifications in terms of environmental impact, legal obligations, and any other necessary organisational commitment.
Section 7: Support – This clause is of the utmost importance because it covers all the resources needed for the EMS and their management. In other words, it requires the organisation to identify competence requirements for individuals performing duties on its behalf, which directly impact its environmental performance, its ability to meet its compliance responsibilities and make sure they are adequately trained. Additionally, this clause requires that all individuals performing duties at its behest are fully conscious of the environmental policy, how their work could impact it, and the consequences involved in not complying with the EMS. Finally, there are requirements for the retention of documented information relating to environmental aspects, criteria, environmental objectives, employee competence, communication, inspection, analysis, and evaluation results, and the results of compliance obligations to name a few.
Section 8: Operation – This requirement deals with all aspects of the required organisational processes environmental controls along with the requirement for the identification of potential emergencies and response planning to ensure you are equipped to respond in the event of an emergency.
Section 9: Performance evaluation – This clause contains the requirements necessary for ensuring you can monitor the sound functioning of your EMS. It calls for consistent processes monitoring and measurement. It also requires environmental compliance assessment, internal audits, and that management continuously reviews the EMS.
Section 10: Improvement – The final section outlines the requirements needed to gradually make your EMS better on an ongoing basis. It requires you to react to non-conformities and take action, to control and correct them and manage their consequences, and to verify if similar non-conformities exist, or might arise elsewhere.
If you want to expand your knowledge about ISO 14001 management review requirements, click on the related link and answer the question "what is ISO 14001 definition?"
Unlimited benefits of implementing an EMS for a construction company
The benefits of ISO 14001:2015 cannot be overemphasized; organisations of all sizes have used this standard to great effect and highly recommend it to those who have not. It may seem difficult to implement, but that should not deter you from pursuing this world-class standard that will favorably transform your organisation for years to come. Audit 14001 is one the most important subjects which any manager should know about it.
If you know the ISO 14001 definition; you may feel like your business may internally lack the expertise and resources required for EMS, resorting to third-party assistance from an experienced consulting firm will ease the burden the certification process places on organisations in terms of time and human resources. In most cases, this option is the soundest one to ensure effective implementation of the standard without impacting your business operation.